Wh-where do I start. This deck changed my life. And I didn't mean to!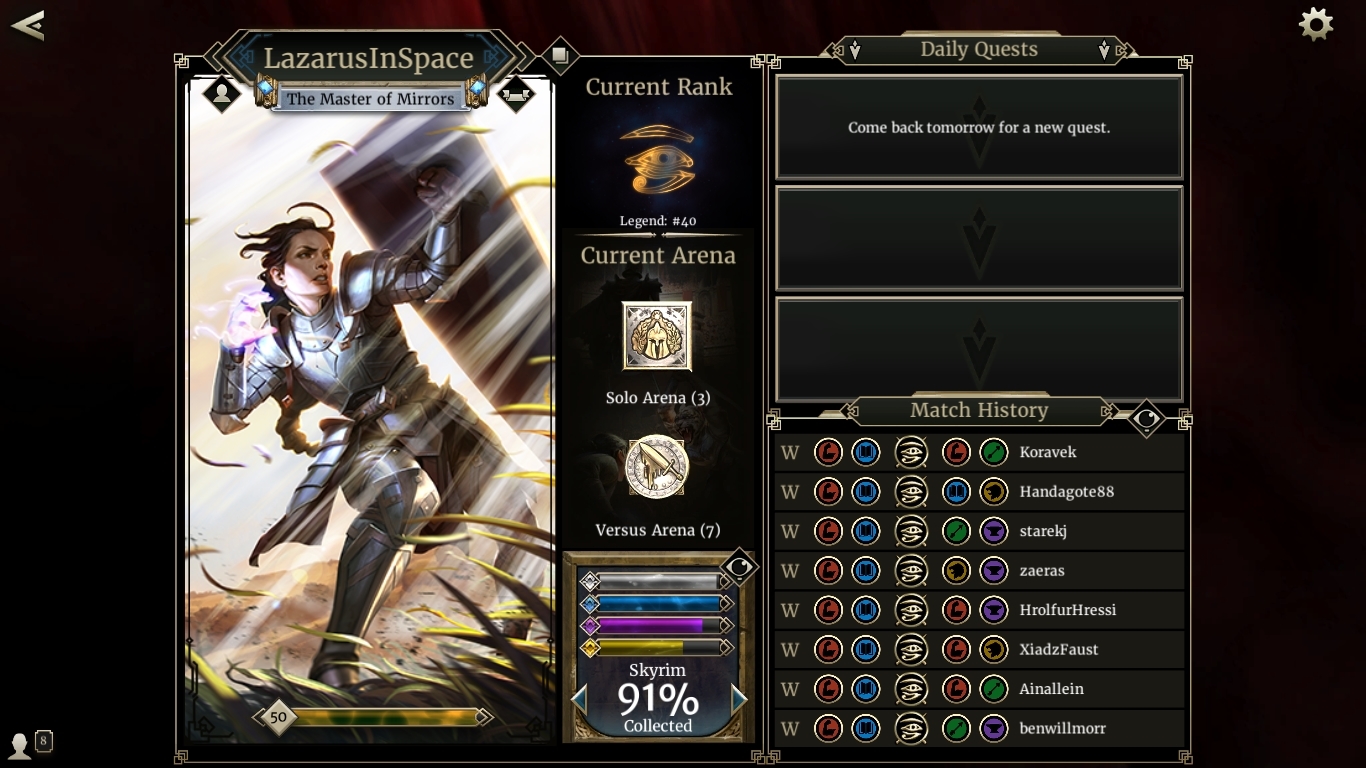 Currently I'm 10-1 with this deck. After getting 10-1 with midrange orc warrior I decided to change things up a bit and make an orc battlemage. The idea was around my head for a while, ever since I saw now private/deleted Faylash's midrange assassin list with dark rebirths and dragons.
So... let's talk about advantages and disadvantages.
+ BURST. You can close the gaps like nothing else in this game. Between lightning bolts, ancano, dark rebirth (with charge creatures or ancano) and charge creatures you can go face really hard and not worry.
+ Pretty easy to pick up. At its core it's an aggro list. It's not Time to Fight, but it's still relatively easy to just get up and play. Barring the cards' cost in dust that is.
+ So many favorable matchups. I've beaten 3 rage archers on my way there. I've smashed ramp spellsword and scout. If you recognize these - good. That's probably how a ladder looks for you now lol.
- If the ladder is full of control mages (specifically mages, you couldn't care less if you're facing spellswords) or token crusaders or literally anything faster, you probably shouldn't play this deck. It can race, but not that well. And as a passive player you can't do much due to all the breakthrough.
- No healing. To be expected from a Battlemage.
And probably something else. I don't know. I love this deck, but at the same time I'm scared because I can close a gap as large as 10 damage on turn 8.
Your acceptable starting hand is at least 1 card that is a 3-or-less drop and preferably neither Stoneshard Orc nor Stronghold Patrol. Not really hard. Keep Rapid Shot if you're facing a Battlemage (1 hp creatures a plenty) and optionally Assassin if you feel like you're against goblins, I guess. Then start pressuring. Depending on your starting hand you can seriously fool your opponent. Now let's talk about that.
- If you place a Relentless Raider turn 1 and follow it with any of Greystone Ravager or Orc Clan Captain turn 2, you can fool your opponent you're a plain aggro deck. That can cause him to focus on Raider, rather than Ravager, letting you keep that precious orc on board.
- If you place just a Greystone Ravager on board, you can trick your opponent you're a prophecy battlemage. Especially if your next card is Morkul Gatekeeper.
- And, finally, placing Wardcrafter can make him think you're a midrange battlemage with plenty of wards. Morkul in next turn also won't break the illusion.
If you keep that in mind, you can potentially make your opponent play however you want him to.
Your general plan is to go face. If your opponent drops a card, think what will he do with it and play accordingly. Trade with breakthrough against stuff that can kill something on your side. Keep
Stoneshard Orc
s in your pocket for problematic creatures, same with
Earthbone Spinner
s for guards or, for example, Murkwater Shamans.
I'd talk about budget replacements here, but there's one little issue.
Wood Orc Headhunter
is a huuuge part of this deck. The 5 cost 5 attack charge creature is HUGE. You can't just replace it. Not even Vigilante, which I still pack 1 of, can do the job this thing can. The closest thing with that much impact would be
Royal Sage
. You can even Dark Rebirth the sage for double the impact, but trust me when I say that these two are not even close to be compared, unless your Sage gets charge twice. Alternatively, to keep the deck mostly red, you can play
Triumphant Jarl
, but I personally really don't like this card. It doesn't feel right, that's all.
Other than that your replacements are the usual.
Relentless Raider
into
Fiery Imp
,
Earthbone Spinner
and
Belligerent Giant
into 3 copies of
Cast Out
and 1
Bone Bow
/
Shield Breaker
Stoneshard Orc
, despite being a rare, are a part of Madhouse Collection. With Twitch drops you should buy that collection eventually, but for the sake of just bringing the gem cost down for everything, try
Skaven Pyromancer
.
Reive, Blademaster
,
Garnag, Dark Adherent
and (though you should probably have his deck bought)
Ancano
for... I have no clue what you could bring here. Maybe
Fate Weaver
, although there ain't that many prophecies in the deck.
Finally,
Underworld Vigilante
's closest available replacement is
Battlefield Scrounger
.
In the end, just focus in having 3
Underworld Vigilante
s in deck. As a matter of fact, either Time to Fight battlemage by flex or prophecy battlemage will probably be a better thing to run. Wood Orcs are, seriously, too important. Unless you really love orcs and want to play them, don't craft them first.